Products & Services

VoIP Installation & Services
Virtual PBX service with SIP proxy or SIM gateway
(Make free calls to anywhere in the world, or at home, office, or remote sites.)
The Virtual PBX is the service in which the VoIP PBX is located on our premises or remotely from the end user. The clients telephones at the customer premises or mobile phones connect to the telephone network using internet connectivity.
Read More >>
Telephones extensions from the same customer call each other for cheaper even if they are not in the same physical or geographic location.
VOIP Installation
We provide clients with phones ,a PBX , POE Switch, and a GSM Gateway ,all setup for them and a possible SLA (Service Level Agreement ) as an option. We also undertake all Internal Cat5 Structured Cabling no internet connectivity required unless remote connectivity like Zoiper or handsets at home are required.
VOIP Services
Clients would host handsets and a router at their office's and connect to our GSM Exchange via the internet to make and receive calls (Internet access Required)
Document Centre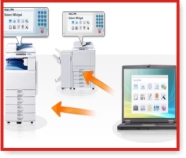 Archiving – With Our high Speed Enterprise Production OCR Scanners, we could setup in a clients office/storage facility and scan (Digitize) all the physical paperwork i.e. ( Cheque's ,application forms, indentures, receipts anything from A6 to A3 in size) could be done through the ADF (Auto Document Feeder ) or for heavily soiled documents the flatbed scan is available.
Read More >>
Once scanned for and addition fee we would create a document library (most clients are not aware they need them, but they actually do since it's the only way to search for scanned documents) Once it's all done we could either hand it back to the or we could implement as NAS storage for them to host on their site.
However,  in this case all the scanning would be done at our premises and stored on Storage System ,clients can view online/remotely as an option even with the mobile phone using WebDav, just like DropBox.
Data Scanning & Archiving
TempleData harnesses the power of Digital Archiving to convert our everyday bulky paper, microfiche and film to a digital format for future use. We use cutting edge hardware and software in our conversion processes.
TempleData uses the latest hardware & software technology to scan
Paper (standard sizes and in black & white or colour format)
Large format drawings
Microfilm
We are on hand to handle all your corporate, religious, or educational needs to perform 
Backfile Conversions
Day forward Conversions
Special handling projects such as historical collections
Forms Processing
Our Process
Document Preparation – First step is making the paper document scanner ready. Our trained experts remove staples, paper clips and other fasteners, straighten dog ears, and remove post-it notes to ensure the best possible scanning for your documents.
Scan – We scan using state of the art scanners from the best Hardware suppliers in the industry.
OCR – TempleData's Optical Character Recognition (OCR) software is designed to produce the best grade computer generated searchable text. With OCR, you can search for keywords inside documents.
Quality Control – TempleData reviews every image for quality, and any image not meeting our standards are re-scan.
Index – One of the most critical steps in the document conversion process is capturing accurate index information, DAT will provide you with the most efficient and economical method. Options include manual data entry (including double keying), barcode scanning, ICR to capture key index information, and OCR for
full text search capability of your images.
Deliverables – FTP, Hard Drive, CD-Rom, DVD, Document Hosting by DAT Using your web browser,etc.
Disaster Recovery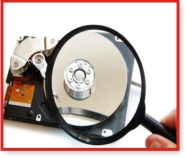 In today's challenging world, having a reliable data backup and disaster recovery solution in place can be the difference between success and failure. TempleData is poised to handle your needs when it comes to disaster recovery restore.
We address both physical and virtual environments to ensure that sensitive data, programs, and complete systems are protected at all times. We are on hand to provide a precise professional recovery process in the event of a disaster.
Read More >>
Enabling you to access your desktops from anywhere
TempleData implements a fully managed secure remote access service
TempleData enables professionals to access their full desktop environment with all standard applications
No software installation on the end-user device required
Desktop image files stored in a secure DataCentre
Optionally have telephony (VOIP) integration
Complete disaster recovery as a service
TempleData delivers end-to-end data protection through the Cloud
TempleData provides backup and flexible recovery within a single integrated service
For a wide range of physical and virtual machines, desktop, laptop, mobile and cloud applications
Cross platform Operating System support
TempleData manages recovery via the Cloud or to physical servers
All data is encrypted to FIPS 140-2 certification by TempleData
'One click' recovery process with no data loss
Replicated data is completely secure within a tier III aligned Phoenix data centre
Monitored and managed 24×365 days a year from 3 Network Operations Centre
Point to point, Internet (VPN), MPLS based connectivity for data transmission
Data recovery is fully managed by Phoenix Business Continuity team
O/S and data recovered to our dedicated virtual recovery platform or to physical servers
All datacentres are UK based
High Availability
A TempleData High Availability recovery solution has the ability to further reduce both your RTO and RPO through continuous data protection; 15 second snap shots of your data that can be held either at your own site or replicated to TempleData's Tier 3 or Tier 4 Design Data Centres. Also fully scalable in line with your data volumes and delivering the ability for frequent and fast Disaster Recovery testing, a High Availability solution from TempleData is designed to deliver optimal recovery of business critical data, ensuring the complete continuity of your business in the event of a disaster.
Virtual Tape Library
TempleData's Virtual Tape Library solution virtualises your existing backups with no need to immediately change your backup model, delivering a lower RTO with minimal disruption to your business. Emulating most tape drives and libraries, a TempleData VTL can replicate your data to either your own secondary site or a combination of TempleData's Tier 3 and Tier 4 Design Data Centres.
The virtualisation of your backup solution ensures instant scalability in line with any increase or reduction in data volumes, as well as the ability to perform frequent, fast and non intrusive remote Disaster Recovery testing.
Provision & Building of Data Centres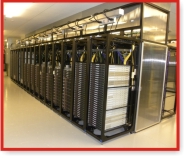 With TempleData's expert teams as your partner during the design and development process, you'll benefit from our extensive past experience and forward-looking perspective.
We'll deliver a fit-out ready, fully permitted, power- and fiber-provisioned site that saves you time and money and enables you to meet your business goals.
Read More >>
We can help you design and implement your data center move. From move-in planning and strategy to project management, TempleData offers a range of services to help you migrate your existing environment and applications to your new data center.
TempleData services include:
Data center planning and layout design
Project management
Fit-out of rack, electrical, and containment
Structured cabling
Physical and logical migration services
Customized Services
Your data center should meet your needs exactly.  TempleData has engineers and architects on-site to help you design the perfect data center environment for your requirements.  We can help with every stage of the design and implementation process.
Network Connectivity
TempleData goes beyond carrier-neutral to offer a wide range of connectivity options.  Connectivity options available on our campuses include:
Multiple peering options to Amazon Web Services
Access to major Bay Area Peering Internet Exchange points such as TIE, IBX, Any2, etc.
Access to 60+ providers (see list below)
BYOD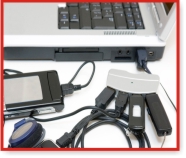 The services our company offers enhances a bring your own device policy (BYOD) within institutions , helping to cut costs on IT equipment purchases for non security sensitive equipment.
(BYOD) is an IT policy where personnel are allowed or encouraged to use their own mobile devices — and, increasingly, notebook computers,iPads etc — to access enterprise data and systems.
Read More >>
Our VOIP implementation will allow marketing and field sevices personnel be connected to the office telephone network at no extra cost.
Advantage of using a BYOD policy
Productivity: Staff will be more comfortable with personal devices that is able to perform and tend to become used to them become expert using them helping to increase productivity.
Where the personal devices are more cutting-edge and in consonance with the tasks to be performed the enterprise benefits from the latest features. Usually if the company is paying or adding an allowance for the device users will upgrade or purchase the latest hardware or technology.
Motivation : Staff are motivated beause they are using the tools use the they preference for or had a choice in buying. Most of such users find their mobile device more important than some other consumables. Allowing employees to use personal devices also reduce the number of gadgets they have to carry,some for the office and others personal
Savings: Some of the cost of buying equipment is pushed to the user.The company shifts the cost of replacing obsolete equipment frequently to the user and replaces only for new staff who contribute to the cost.
By Providing Virtual PBX services and remote access to your enterprise data we enhance your company ability to be able to implement a BYOD policy by providing the platforms for employees to use their mobile devices as office extensions and office computers. 

Our data center and VOIP servers take advantage of a wealth of applications for mobile devices to access information or utilize company resources efficiently.
Break/Fix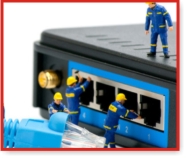 Select from TempleData's extensive range of break/fix service options to ensure the best value cover for your equipment, all delivered to the highest levels.
Whatever your environment, our highly accredited nationwide network of engineers will provide fast and efficient resolution to fault incidents. Our commitment to best practice, standards and qualifications is underlined by our membership of the IT Service Management Forum.
Read More >>
Choose contracted service levels, maintenance targets, off-site or on-site engineers – we'll work with you to create the right high-value service for your business.
TempleData's Break/Fix support provides hardware and software remediation to keep your IT assets up and running. Regardless of manufacturer or age of equipment, we can customize a solution that keeps your business going strong.
24/7/365 – Help Desk

On Site 4-hour response

Break Fix dispatch service
Co Location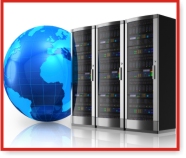 Introduction
Co-locating with TempleData ensures a significant cost effective use of reliable IT infrastructure while you business focuses on its core competencies. Co-location in TempleData's data center offers companies with round-the-clock accessibility and high-speed Internet demands. Our customers save money while taking advantage of environmentally friendly and state-of-the-art equipment.
Co Location is a great option for large and small businesses that need the features of a large IT department without the costs. In addition to providing an environmentally secure location for housing your servers and related equipment, we provide rack space, power, cooling, network connectivity, etc.
Read More >>
Benefits
A secure location with a stable environment for housing servers and related IT equipment. Hardware standards: rack-mountable, dual power supply servers.
Hardware installation and de-installation. TempleData will work with you and the equipment vendor to provide appropriate rack space, network connections, and electrical connections
24×7 on-call phone support including weekends, and holidays.
Available training to the operations staff to familiarize them with your equipment, related procedures, and this agreement.
Reboot or system status check based on client request.
State-of-the-are backup facilities if required.
Available shelf space available for documentation, backup media, or spare parts.
Why Co Locate?
There are many reasons why having your critical servers located at TempleData other than your office is a good idea.  Here are some of the more obvious benefits.
Physical Security – the hardware cannot be accessed by unauthorized persons
Reliability – TempleData will have a power and environment infrastructure that ensures much  higher up-times than would be possible in the normal office environment
Data Security – maintaining data off-site from your office protects you from any loss of data caused by a catastrophe at your office, and data backup at TempleData will be more dependable.
Technical Support – TempleData will have technical people versed in your server's operating system who can help when things go wrong